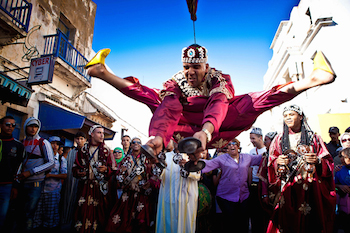 Morocco announces the 19th Gnaoua Festival which will take place in the Coastal town of Essaouira from May 12th - 15th, 2016. This annual festival will feature artists from around the world along with Gnaoua Maalem greats. The Gnaoua Festival is sponsored by Maroc Telecom, Sidi Ali, Bankque Populaire, Oulmes and several other Moroccan companies. The Gnaoua Festival is the voice of a tradition, memory and music. Nineteen years ago, a team of local Souri's started an event, 100% Moroccan which enabled the Gnaoua Maalems to usher in a new chapter of their life.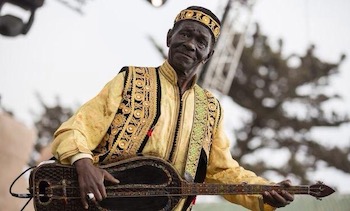 Once called, Mogador and the Port of Timbuktu, Essaouira continues to host this annual fetival that has received international acclaim. The unique combination of International stars, Jazz greats and traditional Gnaouas makes it one of a kind. Tributes to this years annual festival will be made to Maalem Mahmoud Guinea and the great Doudou Ndiaye Rose, magician of the Senegalese drum. Mahmoud Guinia was a Moroccan Gnawa musician, singer and guembri player, who was traditionally regarded as a Maâllem, i.e. master.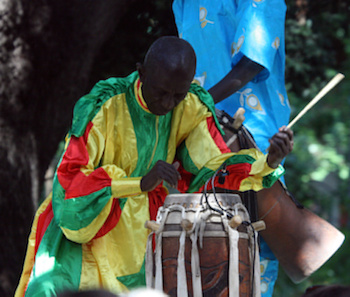 Doudou Ndiaye Rose was a Senegalese drummer, composer and band leader, and was the recognized modern master of Senegal's traditional drum, the sabar. He recorded for both domestic and foreign labels, and collaborated with numerous western musicians. There will be a combination of residences, early evening and late night Concerts along with conference style meet ups, all Gnaoua and Souri style. Below is an up close view at the 19th Annual Gnaoua Festival's line up and artist program.
Artist Line Up - Essaouira 19th Gnaoua Festival From the USA:
Randy Weston: Africa Jamaaladeen Tacuma: Groove Christian Scott: Hewho youth to jazz Jeff Ballard Trio Blitz The Ambassador Hassan Hakmoun: International Gnaoui
From EUROPE: Las Migas: Flamenco witha female fusion tone Jaba & Friends: Roots & reggae
From AFRICA: Hoba Hoba Spirit: The Moroccan music phenomenon event! Mohamed Derham N3rdistan: Rock, rap and Arabic poetry! Songhoy Blues:the quiet force of Timbuktu DoudouN'diaye Rose family:Tribute to mathematician of the Drum! Mehdi Nassouli: The Hajhouj conquering the world RachidaTalal,The pearl of the South Oudaden, rebirth of Amazigh music 3ADA Swiria Issaoua of Fez Hmadcha
Festival Stars from MOROCCO Festival stars: Maalemsfrom all over Morocco (Casablanca, Marrakech, Essaouira, Meknes, Rabat, Ksar El Kebir) MAALEM HAMID EL KASRI: The Santana of the Gnaouis MAALEM ABDELLAH AKHARRAZ: Worthy successor of the Guinea heritage MAALEM ABDESSLAM ALIKANE: Themaalem of maalems MAALEM HASSAN BOUSSOU: The prodigal son MAALEM OMAR HAYAT: For love of Reggae MAALEM ABDELKEBIR MERCHANE, The Gnaoui with silver hands MAALEM MOHAMED KOUYOU, The most American of maalems! MAALEM MAHJOUB KHELMOUS, The magician of the guembri MAALEM MOKHTAR GUINEA:Tagnaouite running in his blood MAALEM SAID OUGHESSAL:A Hispanic breeze blowing on Gnaoua MAALEM ABDENBI EL GUEDARI: An electro Gnaoui MAALEM MUSTAPHA BAQBOU:The hippy Maalem MAALEM SEDDIK BOUNHAR:The passionate Gnaoui who has travelled the world MAALEM AHMED BAQBOU: The gnaoui prince of the ochre-colored city MAALEM Said BOULHIMAS: Maalemin spite of himself MAALEM ALLAL SOUDANI: Ancestral Gnaoui MAALEM SAID BOURKI: Faithful to tradition MAALEM ABDELKADER AMLIL:The Gnaouibluesman MAALEM ABDENBI EL MEKNASSI:" ElMeknassi" MAALEM RACHID EL HAMZAOUI:Gnaoui Ghiwani
The Official Festival Program - Essaouira 19th Gnaoua Festival
May 13th, 2016 Place: Zaouia Disna Bilal Artist Line Up: Maalem Allal et Najib Soudani and Maalem Said Boulhimas and Maalem Said El Bourki Time: 11:00pm Place: Dar Loubane Artist Line Up: Anciens Gnaoua Time: 12:00am Place: Dar Loubane Artist Line Up: Maalem Seddik Bounhar Time: 12:05am - Residence Place: Dar Loubane Artist Line Up: Songhoy Blues and Maalem Abdeslam Alikane
May 14th, 2016 Time: 8:00pm Place: Place Moulay Hassan Artist: Maalem Abdellah Akharaz Time: 8:05pm Place: Place Moulay Hassan Artist: Movie Projection - Maalem Mahmoud Guinea Time: 9:15pm Place: Place Moulay Hassan Artist: La Releve Gnaoua and Musiciens de Doudou N'Diaye Rose Time: 10:40pm Place: Place Moulay Hassan Artist: Christian Scott Time: 12:00pm Place: Place Moulay Hassan Artist: Maalem Hamid El Kasri Time: 11:00pm Place: Dar Loubane Arist: Maalem Abdenbi El Meknassi Time: 12:00pm Place: Dar Loubane Artist: Maalem Rachid El Hamzaoui Time: 8:30pm Place: Scene de la Plage Arist: Khalid Amrhoche, Khalid Lzoubaz, La Releve Gnaoua, Mohamed Bomzor Time: 9:35pm Place: Scene de la Plage Artist: Songhoy Blues Time: 11:30pm Place: Scene de la Plage Arist: N3Rdistan Time: 11:50pm Place: Scene de la Plage Artist: Maalem Mustapha Baqbou Time: 11:00pm Place: Borj Bab Marrakech Artist: Maalem Abdenbi El Guedari Time: 11:00pm Place: Zaouia Issaoua Place: Tarifa de Safi Time: 12:00am Place: Zaouia Issaoua Artist: Maalem Mahjoub Khalmouss
May 15th, 2016 Time: 5:00pm Place: Place Moulay Hassan Artist: Oudaden Time: 6:00pm Place: Place Moulay Hassan Artist: Maalem Mustapah Baqubou, Mohamed Derham, Nabil Khalidi, Omar Sayed  
For more information about Essaouira or the Gnaoua Festival Morocco's Imperial Cities, Seaside Resorts,Sahara Desert,Berber villages, A Taste of Morocco, Magical Kasbahs, Ruins & Waterfalls, Absolute Morocco, The Best of Marrakech, Fes, and Ouarzazate
Travel Exploration specializes in
Morocco Travel.
We provide Tours and travel opportunities to Morocco for the independent traveler and tailor-made tours for families and groups with a distinctly unique flavor. From Morocco's Seven Imperial Cities, to the Magical Sahara Travel Exploration offers a captivating experience that will inspire you. At Travel Exploration we guarantee that you will discover the best of Morocco! Call Travel Exploration at 1 (800) 787-8806 or + 1 (212) 618882681 and let's book a tour to Morocco for you today.